USparkle Therapy Centre & Day Spa
USparkle Therapy Centre & Day Spa offers a range of beauty treatments and alternative health therapies for your well being.
Set in a central Christchurch location, in the beautiful Aphrodite Boutique Accommodation, USparkle Therapy Centre & Day Spa offers a private restful experience to enjoy with friendly, professional therapists.
Achieve the look of longer, thicker, fuller eyelashes
We stock this product! Find out more or contact us to order.
As I have religiously for the past 43 years, (since I was 15), cleansed/moisturised my face each morning and night, never going to bed with make up on, (even after a hard night have had my husband 'steady' me at the basin as "I must clean my face"), and used only quality products, I was a little hesitant when Lyn from USparkle informed me my skin was dehydrated.

I was very impressed with how her skin looked though so decided to take the plunge and do a 6 week course of galvanic treatment. This involved twice weekly visits, 12 treatments in all. After the fourth treatment I could see a notable difference in my skin, it looked smoother, clearer.

Today I am having my twelfth treatment and I am just amazed at how hydrated my skin has become, and I know I look much younger.

I have for the past six years had botox treatment around the eyes and forehead area, my next appointment was due in two weeks time however I have cancelled that as I do not think it necessary.

I am buying my own galvanic machine and will keep up my own treatments at home once a week.

Lyn knows what she is talking about and I thoroughly recommend this treatment. It is amazing!

From a highly satisfied customer.

Sharon, Canterbury
Sharon took our 6 week galvanic treatment course. Take advantage of our special offer, available for a limited time only.
USparkle Therapy Centre's galvanic skin therapy facials have done wonders for my sensitive skin...I highly recommend galvanic skin therapy for ultimate hydration...My skin is no longer dry or dehydrated and the appearance of my skin is much more healthy and radiant.

Jasmine Pat, Christchurch
Treatments are offered to both guests of Aphrodite Boutique Accommodation as well as Christchurch residents and travelling visitors.
Are you are planning a night out? Going to a school formal? Attending a wedding? Or perhaps you would just like to sit back and relax in the guest lounge? Whatever your need, just ask and we can cater to you.
Enquire about USparkle Therapy Centre & Day Spa treatments.
Pamper Packages
USparkle Therapy Centre & Day Spa offers a range of pamper packages, designed to make you feel relaxed, revitalised and rejuvenated.
I found each session so relaxing and knew it was doing wonders for my skin. Any skin imperfections like skin 'tags' which are known to be caused by ageing and also highly sensitive areas of my skin that were prone to eczema and allergies have been treated, thanks to Lyn's extensive knowledge and caring approach.

Jasmine Pat, Christchurch
Gift Vouchers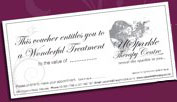 A relaxing afternoon in the professional hands of USparkle Therapy Centre & Day Spa is a great gift idea. Pamper your partner, friend or family member to the ultimate gift in luxury and relaxation.
Gift Vouchers are now available in a range of prices. Show your loved one that you care with a USparkle Therapy Centre & Day Spa gift voucher.
Purchase your Gift Vouchers online or contact us to organise your gift vouchers or gift ideas.
Positions Available: Health Therapists
Do you offer a therapy for health and well being?
We are currently looking for mobile, independant contractors.
Health professionals and therapists are invited to apply for a position to offer their service to our clients. Therapists must carry own personal liability insurance, have relevant qualifications and provide references upon application.
USparkle Therapy Centre & Day Spa is set in the beautiful Aphrodite Boutique Accommodation villa, nestled amongst trees and gardens in a central location in Christchurch, New Zealand.
A conference room is also available for hire. The conference room seats up to 15 persons in an informal lounge style setting.
There are excellent parking facilities, adjoining bathroom facilities, guest lounge and an excellent booking service at your disposal.
We also offer therapists the opportunity for affordable promotion on this website.
Enquire about renting space at the USparkle Therapy Centre & Day Spa.