Manicures, Pedicures and Shellac Nails
Manicures, pedicures, Shellac Nails and other nail treatments offered in the privacy and comfort of USparkle Therapy Centre & Day Spa.
Nail treatments include, but are not limited to: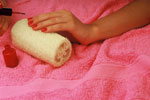 Manicures
Pedicures
Nail Spa
Hand and Foot Massages
Skin treatments
Shellac Nails
Reflexology Massage Foot Treatments
These nail treatments are ideal for special occasions, engagement parties, weddings and just to look and feel amazing. A fortnightly session will have you looking your best.
Shellac Nails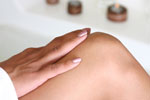 Shellac Nails offer a high gloss flawless colour and look absolutely amazing! The nails look natural and are thin and flexible, while also providing a strong natural nail protection with a beautiful mirror finish.
Shellac Nails last for approximately 14 days, and with zero dry time, ten-minute removal time and no damage to your natural nail, you won't be dissapointed!
Shellac Nails are hypo-allergenic, and contain no formaldehyde, toluene or DBP.
Available in a variety of colours, including clear coat.
Hand and Foot Therapies
The condition of your skin on legs, arms, hands and feet is very important to your general health. Our professional beauty therapist will pamper and relax you with rejuvenating treatments. You will feel like you are walking on air!
Relax, feel rejuvenated and reveal the sparkle in you!