China Tea Products
USparkle Therapy Centre & Day Spa stocks a range of China Tea products. White tea can provide many health benefits such as promoting health skin and cleansing and purifying.
To order any of these products, please contact us.
Postage fees will apply.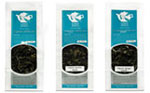 Loose Leaf Teas
Brewed fresh, White Tea can provide many great health benefits, such as less than most teas including green tea, not as highly processed as most teas, promotes healthy and radiant skin, cleanses and purifies and is even referred to as 'anti-ageing'.
Flavours: Organic White Original Tea Leaves, Organic Jasmine-White Tea Leaf Blend and Organic Ginger White Tea Leaf Blend.