Eyelash Extensions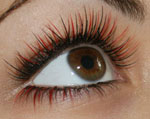 Offered in the privacy and comfort of Aphrodite Boutique Accommodation, USparkle Therapy Centre & Day Spa offers eyelash styling with Nouveau Semi Permanent eyelashes.
Our eyelash treatments add length, thickness and fullness to natural eyelashes, creating a fuller, longer look.
Nouveau Semi Permanent eyelashes are natural and believable and are customized to suit your eye shape and desired look.
Eyelash extensions are perfect for any special occasion. You are still able to shower, exercise, swim, sleep and even watch a tear jerker flick without a care in the world.
False Eyelashes
Choose from standard lashes in a J-Curl configuration, coloured lashes (Blue, Green, Purple and Red Wine) or a C-Curl variant in 8mm, 10mm and 12mm Extra Volume Up.
Lashes last dependent on the cycle of your lashes and your management. They average 3 to 6 weeks.
Wake up every morning with longer, thicker, luscious, natural looking lashes, without the hassle of reaching for your mascara wand.
Lash and Brow Products
Products and treatments to enhance eye lash and eye brow growth are available.
Feel incredible everyday and reveal the sparkle in you!