Health and Beauty Products
USparkle Therapy Centre & Day Spa stocks a range of health and beauty treatments and products.
To order any of these products, please contact us.
Postage fees will apply.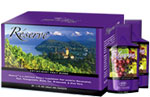 Réserve™ Antioxidant Fruit Blend
A healthier, better you...
A botanical blend of essential antioxidants with restorative powers that will supercharge your health and assist in delaying premature aging. With its unique combination of antioxidants, anthocyanins, and essential fatty acids, Réserve™ is an excellent defense against free radical damage.
Price: $US134.95 Box of 30