Wine Club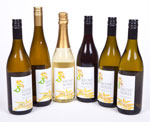 Aphrodite Boutique Accommodation, USparkle Therapy Centre and Sirens' Wines present the Wine Club.
Join the Wine Club and enjoy a range of Boutique Wines, Cheese Tasting and of course good company.
Sirens' Wines will be showcasing their award winning wines at these events for you to taste and enjoy.
Let us help our young talent!
In addition to the incredible wine prices offered on this day, Sirens' Wines are supporting Rosy by donating $1 per bottle of wine, and $12 per case of wine, sold on this day and ordered within the next 6 months.
Venue: Aphrodite Boutique Accommodation (Location)
Wine Club Annual Membership: $30
Contact us for more information.