Luminesce™ Skin Rejuvenation
Offered in the privacy and comfort of the USparkle Therapy Centre & Day Spa, our beauty therapists offer refreshing Luminesce™ skin rejuvenation treatments.
Age defying radiance and luminosity!
Luminesce™ Cellular Rejuvenation Serum is formulated with exclusive adult stem cell technology that delivers more than 200 human growth factors to the skin. This combination of ground-breaking science and skin care expertise has produced a one-of-a-kind product, creating visible results through daily use.
The stem cell technology allows for the delivery of key growth factors already found naturally in the body by penetrating through the pores of the skin and working with body processes to stimulate production of matrix proteins, such as collagen and elastin.
These growth factors are the language of the cells, and communicate certain specific instructions to carry out, such as lowering inflammation, building new blood vessels, and producing collagen. This cellular communication process is one of the miracles of Luminesce™ cellular rejuvenation serum.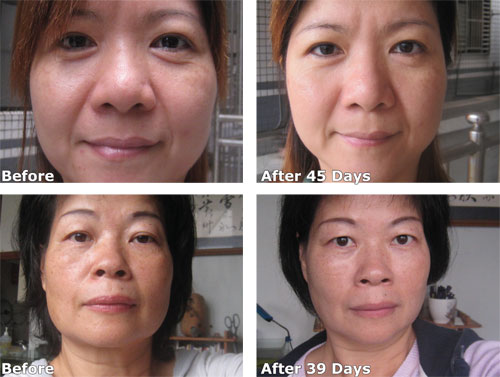 Benefits:
Dimishes the appearance of fine lines and wrinkles.
Evens out discoloration and uneven skin tones
Increases skin moisturization and vibrancy
Enhances smoothness in the texture of the skin
Increases skin firmness and elasticity
Renews the youthful luminosity
Clinical Proof
Based on the latest available technology, Luminesce™ cellular rejuvenation serum is the first anti-aging product to stimulate your body's natural ability to replenish and heal your skin. This powerful anti-aging serum works around the clock to restore life to your skin. In recent studies this serum:
88% of women saw improvement in the overall appearance of their skin
75% experienced improvement in skin texture and smoothness
70% felt an increase in skin firmness and elasticity
70% saw a reduction in the appearance of fine lines and wrinkles
Example of Luminesce™ Skin Rejuvenation Treatments
Here are some examples of the effects of Luminesce™ Skin Rejuvenation treatments on patients.


In this last picture, she only applied Luminesce™ to one side of her face for 60 days. A picture was then taken by a dermatoscope, and you can see the dramatic difference between the side of her face where the new collagen is being formed, compared to the redness and blackheads still visible on the side where no product was used.