Personal Trainer and Exercise Assistance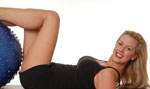 Offered in the privacy and comfort of USparkle Therapy Centre & Day Spa, our Christchurch personal trainer offers individually tailored exercise programs to help you achieve your own personal goals. Lose weight, tone your body and feel truly amazing!
Our personal trainer will work one-on-one with you to help you achieve your body size, weight and form.
We can help you reach your goals.
Change your life from today and make the call.
Confidentiality assured.
Look and feel incredible everyday and reveal the sparkle in you!