Aromatherapy Synergy Products
USparkle Therapy Centre & Day Spa stocks a range of beauty treatments and well-being products from Linden Leaves.
To order any of these products, please contact us.
Postage fees will apply.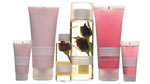 A fusion of colour and fragrance in four different moods to delight your spirit and care for your skin.
Includes: Moisturing Lotion, Fomaing Shower Gel and Body Oil.
Variants: Memories, Absolute Dreams, Pick Me Up and In Love Again.
Price (Large): $222.93
Price (Small): $170.93
Individual Prices
Body Oil
250ml Bottle
$46.99
70ml Bottle
$24.99
Foaming Shower Gel
200ml Tube
$22.99
30ml Tube
$7.99
Moisturising Lotion
200ml Tube
$22.99
30ml Tube
$7.99
Vegetable Soap
100g Boxed
$14.99
Travel Pack
3x 30ml Tubes
$24.99
Soap and Lotion Set
2 Pieces
$24.99
Cleanse and Care Pack
4 Pieces
$64.99