Bathtime Products
USparkle Therapy Centre & Day Spa stocks a range of beauty treatments and well-being products from Linden Leaves.
To order any of these products, please contact us.
Postage fees will apply.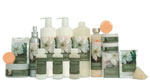 A spirited range of bodycare products with unisex and plant derived frangrances to care for skin and delight the soul.
Includes: Bubble Bath, Lotion, Shower Creme, Bath Salts, Creme de la Creme Body Butter, Room Spray, Triple Milled Vegetable Soaps, Bath Bag, Bath Disc.
Variants: Gingseng and Orange Blossom, Fig Licorice, Passionfruit and Echinacea, Green Tea and Lime Leaf and Ginger Peach.
Price (Large): $370.26
Price (Small): $314.51
Individual Prices
Bath Disc
Pack x 1
$8.99
Bath Bag
Pack x 1
$8.99
Frangrance Diffuser
200ml Boxed
$50.99
Crème de la crème body butter
200g Jar
$30.50
Bath Salts
245g Bottle
$20.70
Shower Crème
500ml Bottle
$30.50
85ml Bottle
$10.35
Body Lotion
500ml Bottle
$30.50
85ml Bottle
$10.35
Bubble Bath
500ml Bottle
$25.80
85ml Bottle
$10.35
Minispa Pack
3 Pieces
$30.50
Room Spray
150ml Spray
$30.50
Triple Milled Vegetable Soap
5x 30g Assorted Box
$25.80
Bathrime Trio
3 Pieces
$30.50
Crème Wash and Lotion
2 Pieces
$45.99