Footcare Products
USparkle Therapy Centre & Day Spa stocks a range of beauty treatments and well-being products from Linden Leaves.
To order any of these products, please contact us.
Postage fees will apply.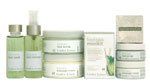 Developed to care for your hardworking feet with the benefits of essential oils, plant derived exfoliants and natural moisturisers. Infused with an invigoration blend of cucumber, safe and lemongrass to inhibit bacteria, refresh and revive.
Includes: Foot Massage Cream, Foot Soak, Footcare Pamper Pack, Foot Scrub, Foot Reviver and Footspa Minikit.
Price: $206.10
Individual Prices
| | | |
| --- | --- | --- |
| Foot Soak | 85ml Bottle | $20.50 |
| Foot Scrub | 200g Pot | $30.50 |
| Foot Massage Cream | 200g Pot | $30.50 |
| Foot Reviver | 85ml Spray | $20.50 |
| Footspa Minikit | 3 Pieces | $30.50 |
| Footcare Pamper Pack | 5 Pieces | $73.60 |