Gold Products
USparkle Therapy Centre & Day Spa stocks a range of beauty treatments and well-being products from Linden Leaves.
To order any of these products, please contact us.
Postage fees will apply.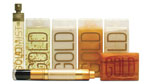 A symbol of luxury and sophistication, ancient civilizations attributed healing properties to pure gold and often included gold in cosmetic preparations and medicinal remedies. Inspiried by ancient wisdom, Linden Leaves GOLD is a luxurious approach to natural skincare.
Includes: Gold Oil, Gold Lotion, Gold Shimmer Dust, Gold Mist, Gold Salt, Gold Gel and Gold Soap Bar.
Price: $325.09
Individual Prices
| | | |
| --- | --- | --- |
| Gold Oil | 190ml Bottle | $40.50 |
| Gold Salt | 230g Bottle | $30.50 |
| Gold Gel | 190ml Bottle | $30.50 |
| Gold Lotion | 190ml Bottle | $30.50 |
| Gold Mist | 50ml Spray | $30.50 |
| Gold Soap | 130g | $11.30 |
| Gold Shimmer Dust | 7g | $30.50 |
| Gold Giftset | 4 Pieces | $79.99 |
| Gel and Lotion Set | 2 Pieces | $40.80 |