Herbalist Products
USparkle Therapy Centre & Day Spa stocks a range of beauty treatments and well-being products from Linden Leaves.
To order any of these products, please contact us.
Postage fees will apply.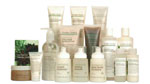 Natural balanced skincare formulated with pure ingredients which combine the benefits of nature and science to nourish the skin and nurture the soul.
Suitable for all skin types including sensitive skin. Unisex, free of synthetic colour, not tested on animals.
Includes: Daily Facial Moisture, Cream Cleanser, Toning Reviver, Facial Care Pack, Exfoliating Facial Wash, Clay Cleansing Facial Masque, Moisture Replenishing Facial Masque, Olive Leaf and Cypress Flowing Soap, Hand and Nail Treatment, Sugar Salt Exfoliation Body Rub, Flax Seed Body Polish, Rosemary and Cypress Shampoo, and Balm Mint and Tangerine Conditioner.
Price (Large): $377.80
Price (Small): $332.80
Individual Prices
Hand and Nail Treatment
160ml Tube
$25.80
30ml Tube
$8.00
Exfoliating Facial Wash
160ml Tube
$30.50
Clay Cleansing Facial Masque
160ml Tube
$30.50
Moisture Replenishing Facial Masque
160ml Tube
$30.50
Toning Reviver
60ml Bottle
$40.70
Cream Cleanser
60ml Bottle
$40.70
Daily Facial Moister
60ml Bottle
$40.70
Flax Seed Body Polish
210ml Tube
$30.50
Sugar Salt Exfoliating Body Rub
250g Pot
$30.50
Olive Leaf and Cypress Flowing Soap
250ml Bottle
$25.80
Rosemary and Cyrpess Shampoo
270ml Bottle
$25.80
85ml Bottle
$12.20
Balm Mint and Tangerine Conditioner
270ml Bottle
$25.80
85ml Bottle
$12.20